First Visit
Welcome!
Thank you for choosing Dr. Epstein and Texas Pain Relief Group.
We would like to take this opportunity to welcome you as a new patient; and we look forward to providing you with the best possible pain relief options available.
Our goal is to make your first visit a pleasant and convenient experience. To expedite your check-in process, we will provide you with a new patient intake form during the scheduling process. Please fill out the new patient intake form in its entirety, and bring it with you on the day of your visit. If you are unable to complete this prior to the visit, please arrive 30 minutes earlier than your scheduled visit to allow time to complete.
On the day of your appointment, to better serve you, please bring with you:
A completed new patient intake form (please complete prior to arrival)
Your Insurance cards and photo I.D. (preferably driver's license)
Any relevant Imaging (MRIs, CT Scans, X-rays) discs or final results, if available
Any prescription medicines you are taking, or medication list
Additionally, in order to best serve you, we want to inform you that we practice a multidimensional approach to pain. Please be aware that our providers do not routinely prescribe controlled substances at your first visit, and as such any refills you need in the meantime should be coordinated with your prescriber.
Additionally, please have your specialist or primary care doctor fax over relevant records to our (E−fax: (972) 476-0789), as these records are necessary to make the most out of your visit. We look forward to meeting you!
Thank you for choosing Texas Pain Relief Group as your pain management team. We look forward to meeting with you. If you have any questions, please call Arlington , Duncanville .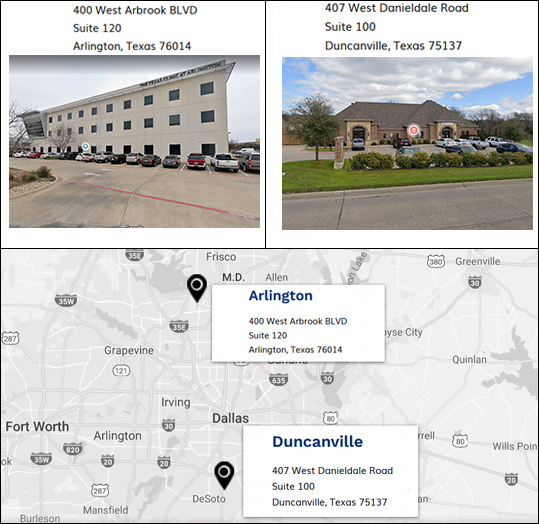 Elsewhere on this website you can find information on the following: