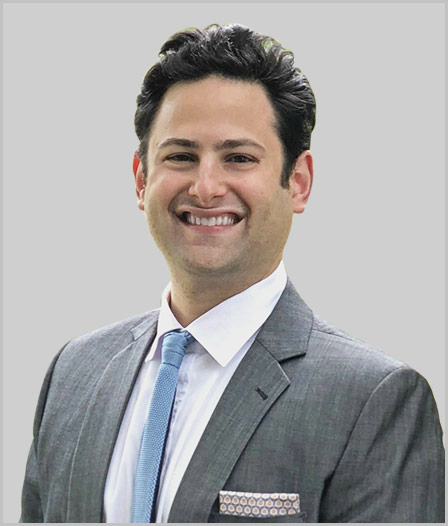 Dr. Jeremy Epstein
Interventional
Pain Management
Dr. Jeremy Epstein is a compassionate, award-winning, double board-certified, Harvard fellowship trained Interventional Pain Management Physician and Anesthesiologist.
After completing his anesthesiology training at the prestigious Georgetown University Hospital in Washington, DC; Dr. Epstein completed his fellowship at Harvard's premier pain fellowship at Beth Israel Deaconess Hospital in Boston under the tutelage of distinguished nationally known pain medicine faculty and innovators. During his training, he had the honor of presenting at several national conferences including the American Society of Regional Anesthesia (ASRA) and at the American Academy of Pain Management (AAPM) on a variety of medical topics related to anesthesia and pain management.
Dr. Epstein has received extensive training and specialization in a variety of painful conditions including: neck/back/spine pain, failed back/post-laminectomy syndrome, vertebral fractures, palliative care, headache/migraine pain, facial pain, joint/knee/shoulder/hip pain, cancer pain, nerve entrapments, neuropathy, abdominal pain, pelvic pain, acute& post surgical pain syndromes, and complex regional pain syndrome (CRPS).
As an advocate for timely, and compassionate patient care, Dr. Epstein's primary goal is simple: to provide his patients with comfortable, personalized, safe, and effective interventional spine and pain management treatment options. Furthermore, he seeks to minimize pain, improve daily function, and quality-of-life.
Utilizing a comprehensive and multi-modal approach to pain management, Dr. Epstein is an expert in cutting-edge treatments including Botox, ultrasound and fluoroscopically guided therapies, radiofrequency ablation, kyphoplasty, and spinal cord stimulators.
Additionally, Dr. Epstein is delighted to join the Dallas, and greater Texas community. In his spare time, he enjoys traveling, cooking, exercise, and exploring the great outdoors.
Education
Interventional Pain Management Fellowship
Beth Israel Deaconess/Harvard Medical School
Boston, MA

2017 - 2018

Anesthesiology Residency
Medstar Georgetown University Hospital
Washington, DC

2014 - 2017

Internal Medicine Internship
Mercy Medical Center/University of Maryland
Baltimore, MD

2013 - 2014

Doctor of Medicine (M.D.)
Virginia Commonwealth University School of Medicine
Richmond, VA (in the tradition of the Medical College of Virginia)

2009 - 2013

B.S. in Biomedical Engineering, Summa Cum Laude
Virginia Commonwealth University
Richmond, VA
Minor: Chemistry

2005 - 2009
Honors
Residency
Best Academic Performance

2014 - 2017

Medical Student Teacher of the Year

2016 - 2017
Medical School:
Hoak Scholarship

2009-2013

Dean's Merit Scholarship

2009-2013

Student Honors Day

2010
Undergraduate:
Dean's List

2005 - 2009

Honors Program

2005 - 2009

Preferred Applicant under Guaranteed Admission Medical Program

2007 - 2009

Alpha Eta Mu Beta Biomedical Engineering Honor Society

2006 - Present

Order of Omega Honor Society

2006 - Present
Research / Publications
"Precipitous Drop in Hemoglobin Oxygen Saturation During Spray Liquid Nitrogen Cryotherapy of Tracheal Lesion"
Epstein JM, Hannallah MS, Krochmal R. Journal of Cardiothoracic and Vascular Anesthesia v. 32, Issue 3, pages e68-e69. June 2018
DOI: https:://doi.org/10.1053/j.jvca.2017.11.046
Department of Anesthesia, Medstar Georgetown University Hospital

2018

"Pseudohernia Development after Cryoablation for Intercostal Neuralgia due to Nonunion Fracture"
Epstein JM, Gill JS, Almalki M.
Department of Anesthesia, Critical Care and Pain Medicine
Beth Israel Deaconess, Harvard Medical School Teaching Hospital
ASRA, Lake Buena Vista FL

2017

"Precipitous Drop in Hemoglobin Oxygen Saturation During Spray Liquid Nitrogen Cryotherapy of Tracheal Lesion"
Epstein JM, Hannallah MS, Krochmal R.
Department of Anesthesia, Medstar Georgetown University Hospital
ASA, Boston MA

2017

"Postoperative Pain Reduction Utilizing Bilateral Subcostal TAP and Classic TAP Blocks"
Epstein JM, Gilmore B.
Department of Anesthesia, Medstar Georgetown University Hospital
ASRA, San Diego CA

2016

"Sarcoid Derived Autonomic Dysfunction in a Patient Undergoing an Achilles Tendonitis Repair"
Epstein JM, Ngyuen V.
Department of Anesthesia, Medstar Georgetown University Hospital
ASRA, New Orleans LA

2016

"Adrenal Disease"
Epstein, JM. MD; Freeman, B. MD
Anesthesia Core Review, Part Two: Advanced Exam
McGraw Hill, Chapter 110

2016

"Poisoning and Drug Overdose"
Epstein, JM. MD; DeJesus, M. MD
Anesthesia Core Review, Part Two: Advanced Exam
McGraw Hill, Chapter 184

2016

"Thrombocytopenia and Thrombocytopathy"
Epstein, JM. MD; Ngyuen, V. DO
Anesthesia Core Review, Part Two: Advanced Exam
McGraw Hill, Chapter 96

2016

"Pulsed Radiofrequency Treatment (PRF) of the Dorsal Root Ganglion at T11-T12 for the Treatment of Intractable Groin Pain"
Epstein JM, Tesfayohannes N.
Department of Anesthesia, Medstar Georgetown University Hospital
American Academy of Pain Management (AAPM), National Harbor

2015

"Pulsed Radiofrequency Treatment (PRF) of the Dorsal Root Ganglion at T11-T12 for the Treatment of Intractable Groin Pain"
Epstein JM, Tesfayohannes N.
Department of Anesthesia, Medstar, Georgetown University Hospital
ASRA; Miami FL

2015

"Femoroacetabular Impingement: A Novel Biomechanical Model"
Satpathy, J; Owen, JR; Jani, J; Epstein, JM; Wayne; Jiranek; Hull.
Departments of Orthopaedic Surgery and Biomedical Engineering.
Orthopaedic Research Society (ORS), Long Beach CA

2011

"A Compliance Chamber for a Mock Circulatory System"
Epstein JM, Miller G, Taylor C.
VCU Department of Biomedical Engineering – Artificial Heart Lab
Senior Design Project

2008 - 2009
Memberships
Dallas County Medical Society (DCMS)
Spine Intervention Society (SIS)
American Society of Regional Anesthesia and Pain Management (ASRA)
American Academy of Pain Medicine (AAPM)
American Society of Anesthesiology (ASA)